Posted under:
Root Canal
Posted on: January 21, 2023
A Fresh Take on Dentistry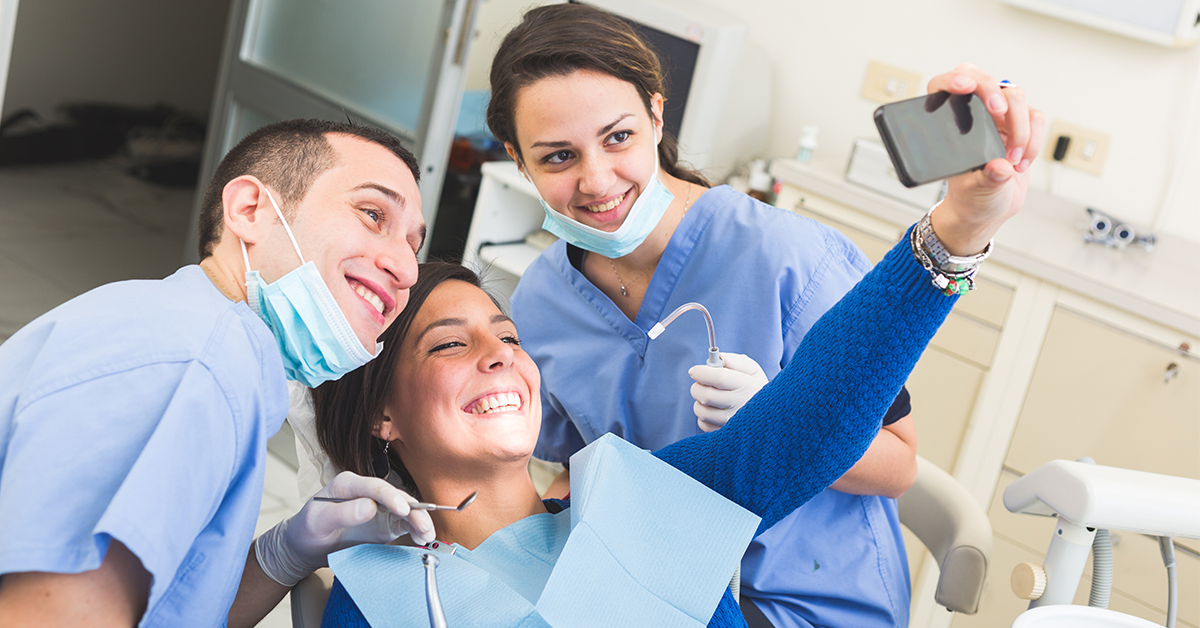 At Oceans Dental Group, we offer a fresh take on dentistry. When you visit our Palm Coast dental office, you'll see right away that our patients always come first. We aim to provide the ideal setting for serving your dental health needs, including one that's both clean and comfortable. Our approach to dental care is patient-focused. Whether it's our comprehensive specialist network or your personal treatment plan, we're always ready to help you with any dental health or oral care needs you may have.
Here are four key ways we strive to always put our patients first.
Comfort
Upon entering our dental office in Palm Coast, you'll find we greet you warmly and treat you right away like a member of the family. Our aim is to give you a comforting, calm, and clean setting throughout your journey through our facility, from the waiting room to your patient care room.
We make scheduling easy, offering a variety of days and times for your appointments. We even offer emergency and same-day visits if an urgent dental care need ever arises. We'll also set you up with any resources you may need to help deal with your circumstances until you can come into the office.
If we do our jobs right, you and your entire family will experience your dental care–perhaps for the first time–as a breath of fresh air.
Compassion
Whether you just saw your dentist six months ago or it's been years since your last dental visit, it makes no difference to us. Either way, we want to make sure you feel like you've found a dental office that values you and treats you with dignity and respect while providing you with whatever dental care you require to achieve and maintain good oral health.
Dental anxiety is a common experience for many people. Sometimes, it comes from a negative experience at another dental office; other times, it simply comes from not knowing what to expect. In either case, we want to make all your visits to the dentist completely positive experiences. There's no reason you should feel nervous or afraid about your dental care, and at our office, we do our best to make sure you don't.
We have a variety of methods we can employ for helping you to relax and feel more comfortable at your appointment. We will also do all we can to make your experience go smoothly from when you step through the door until you leave the office at the end of your appointment.
Our long history of experience providing dental care in Palm Coast has taught us how to make each of your dental visits productive. And, we know it starts with listening closely to what you have to say about your circumstances and concerns. Together we will come up with a plan of action for your dental treatment and preventative care that conforms to your budget and lifestyle.
We will also provide you with invaluable, expert information on how to take proper preventative care at home in between visits. And, we will give you the tools you need to improve the choices you make about your oral health.
There's always time to employ the best oral care in Palm Coast to better your oral health and give you a clean, healthy smile you can bare with pride. Remember, our dentists at Oceans Dental Group are always at your service, whether it's to answer your questions about your dental care or to provide it quickly, effectively, and affordably. Call us today to get that conversation started and take charge of your dental health.
Comprehensive Care
With our comprehensive network of dental care specialists, we can help you get whatever dental care you may need when you need it. If we're unable to provide the specific service you need or if we simply can't fit you in as quickly as you need, we know where to send you that you can trust. Some specialists may be located right in our office while others may require an outside referral. Either way, we remain committed to your total oral health and wellness.
Collaboration
At our dental office in Palm Coast, we don't just collaborate with specialists; we also collaborate with you, our valued patient. We want to make sure you're aware of all the treatment options you have available to you. That's why our well-trained and committed team will take you step-by-step through your whole treatment process: to ensure you know exactly what to expect from each treatment every time you step through the door. Giving you the highest quality of dental care is our number one goal, and we care about what you have to say about your hopes and concerns regarding your dental care.
Communication
You'll find, at Oceans Dental Group, you'll always be treated with the utmost care and attentiveness while we provide you with the highest quality of dentistry services. For us, dental care begins not when you walk into the office but from your very first call. Our sole objective is to respond to your needs and concerns, both through how we communicate with you and through the care you receive from our office.
No longer should you ever be wondering how you can find a great dental office in Palm Coast, because you've found one. Call us today to schedule your first appointment at Oceans Dental Group and we're sure you'll never want to go to another dental office but ours again. You can reach us by phone, email us or even schedule visits through our website.