Posted under:
General
Posted on: May 31, 2013
Brush with fluoride for healthy teeth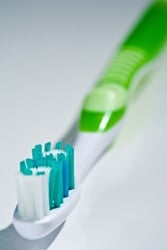 The California Dental Association is urging people to make 2013 a year committed to good oral health. CDA President Lindsey Robinson, D.D.S., a pediatric dentist, recently released a statement telling people to make sure that they brush and floss regularly this year to remove plaque and bacteria from their mouths. While it may sound surprising, many people do not brush as long as they should or floss nearly enough. This is why reminders to practice these healthy habits are important. Robinson explained that while brushing and flossing are important, it's particularly important to brush using a fluoride toothpaste. "It's important to brush with a fluoride toothpaste as fluoride reduces bacteria levels in the mouth. It also remineralizes tooth surfaces to make them stronger," said Robinson. According to the American Dental Association (ADA), fluoride can help prevent tooth decay by making  teeth more resistant to the acid attacks that cause cavities. This is why the ADA recommends that people use dental products that contain this mineral and drink tap water that contains fluoride. According to the organization, 74 percent of the U.S. population has tap water with fluoride in it.