Can You Blame Genetics for Bad Teeth?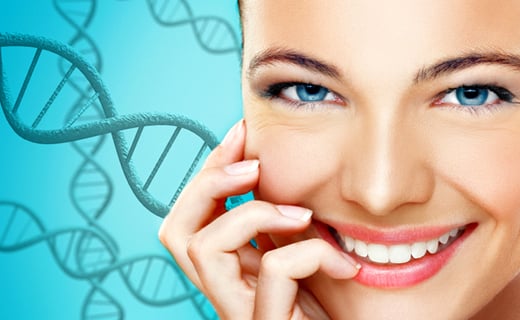 You can blame genetics for a lot—your hair color, eye color, your physique, even your risk of certain diseases. However, there is one aspect of your health and your appearance that is largely your responsibility. Scientists and dentists haven't come to any formal conclusions just yet, but evidence is revealing that the health of your teeth comes down to good dental care habits. You might have small teeth like your mother and big gums like your grandfather, but the condition of your teeth and gums is all about you. Find out what aspects of your teeth are connected to your genes and learn just how much control you have over your oral health. People define "bad teeth" differently. Some define them as teeth that are too large or too small, while others might take issue with spacing. However, dentists define bad teeth as teeth in a poor state of health. Avoiding tooth decay, gum disease, discolorations, and sensitive teeth comes down to proper dental care. In addition to proper dental care—brushing twice daily, flossing once daily, and visiting an affordable dentist twice a year—making some lifestyle and food changes can prevent tooth decay and disease. Use these tips for maintaining "good" teeth:
Consume "teeth-friendly" items, rich in a variety of nutrients, vitamins, and minerals, including cheese and raw fruits and vegetables, and drink tap water.
Avoid junk foods and carbonated beverages.
Brush after eating. If you can't brush, rinse with water.
Don't use tobacco or drugs, which promote tartar on the teeth, leading to stains.
There are, however, genetic mutations that cause some people to be born with missing or malformed teeth. This can be due to errors in DNA or toxic environmental exposures. The formation of wisdom teeth is also hereditary, but discolored or stained teeth and susceptibility to oral diseases are not significantly impacted by hereditary factors. While genetics may play a small role in bad teeth for some people, science has largely determined that the health of your teeth is in your hands. It is primarily your lifestyle habits and environmental exposures that leave you susceptible to bad teeth. Smoking, drug use, diet, and root canals can significantly contribute to bad teeth. Dentists warn that poor dental care habits, such as failing to brush and floss daily or visit your dentist on a routine basis, can lead to terrible teeth. To learn about our family dentistry practice in Palm Coast, call today at or make an appointment. offers affordable family dentistry and gentle, compassionate dental care in Palm Coast. Our offices are conveniently located with extended hours to meet your needs. At , we provide most dental services, from basic preventative care and general dentistry to specialized procedures and complete dental reconstruction. We accept most dental insurance plans and offer affordable financial solutions for any budget. Patient satisfaction is our top priority and we strive to provide the exceptional, affordable dental care and personal touch that lead to lasting relationships. A smiling patient is our greatest reward and we look forward to keeping those smiles healthy, beautiful, and bright. Discover an affordable dentist who truly cares at .