Posted under:
General
Posted on: May 12, 2013
Clean your toothbrush as well as you clean your teeth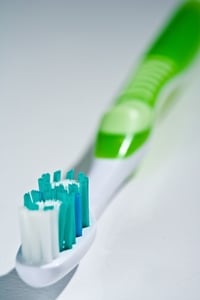 People who are diligent about maintaining dental hygiene and keeping their regularly scheduled dental appointments may not be as fastidious about how they clean and store their toothbrushes. Whether they use a manual or electric brush, the main thing is to keep it clean and out of contact with anything that can bring germs into one's mouth and lead to an infection. Rinsing a toothbrush thoroughly after each use and letting it air dry standing upright in a container is recommended by BreathMD.com. Family unity is a great thing, but not when it comes to storing toothbrushes. Instead of a single cup for all family brushes, they should be stored in containers with separate openings and enough space for each brush to dry without touching the others. Even in the tightest of quarters, toothbrushes should be stored some distance from the toilet, not in a container on the top of the commode. To prevent contamination, tucking toothbrushes away in a medicine cabinet is the best way to store them. Electric or manual? As long as one uses a brush with soft bristles to go easy on tooth enamel, the choice of using a battery-operated electric or a traditional manual toothbrush is a personal one. Each has its own advantages. Some people wouldn't give up their trusty traditional brush for the world while others think the whirl and buzz of an electric model can't be topped. During a visits to a dentist office, family dentists frequently provide manual brushes to their patients. They are great for helping young children learn how to perfect their tooth brushing skills. For adults who have sensitive teeth, a traditional brush allows them to control the pressure they place on different areas of their mouths. On the other hand, EverydayHealth.com states that those who have limited mobility or arthritis in their hands may have an easier time letting an electric toothbrush do the work. A brush head with a rotating-oscillating action is best for removing plaque from teeth and massaging the gums. However, many manual models also come with ergonomically shaped handles for better gripping and a more comfortable hold. While manual versions are less expensive than electric toothbrushes, consumers should keep in mind that it's the bristle heads that need to be replaced every three months or so – the same as manual brushes – not the whole apparatus. Batteries will need to be replaced as needed.