Posted under:
General
Posted on: May 15, 2015
Dental Detective Work – Spotting Bulimia Effects on Teeth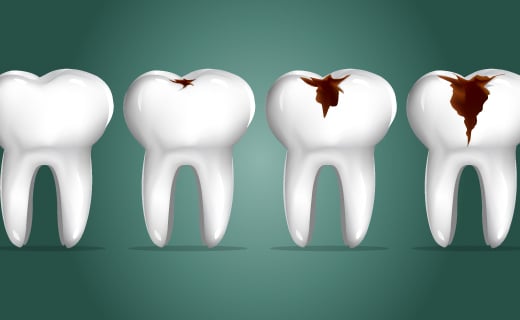 Millions of people have an eating disorder known as bulimia nervosa. Bulimic individuals typically eat large amounts of food, and then eliminate it through self-induced vomiting. Many bulimics are able to keep their condition a secret from people close to them. Friends, families, spouses, and even doctors may not suspect there is a problem. However, an eating disorder and teeth problems often become obvious during a routine dental exam. Bulimia effects on teeth, gums, and mouth of a bulimic person are easily spotted by an experienced dentist or dental hygienist. Erosion of Teeth Erosion of teeth is an indicator of bulimic behavior, and is caused by exposure to stomach acids during vomiting. The loss of enamel and dentin typically occurs on the inside surfaces of upper front teeth. Affected teeth have a smooth, glass-like appearance and are free from stains. When erosion of teeth includes molars, patients become highly susceptible to decay and nerve infection. These bulimia effects on teeth often become obvious after the patient has been engaging in induced vomiting for at least two years. The degree of tooth erosion and the frequency of vomiting are related. If damage is allowed to progress, patients may experience tooth sensitivity, changes in bite, dry mouth, parotid gland swelling, and gum injuries. 

 12 Ways to Treat an Eating Disorder and Teeth Damage Problems Because of the serious nature of eating disorders and their effects on general health and oral health, it is important to treat both the dental manifestations and the underlying condition. The treatments and recommendations listed below may be helpful to bulimic patients during recovery.
Schedule routine dental exams
Have regular professional cleanings
Follow strict dental hygiene habits
Brush with desensitizing toothpaste
Use artificial saliva
Take calcium supplements as needed
Get dental treatments to promote tooth re-mineralization
Rinse with water after vomiting
Avoid brushing teeth immediately after vomiting
Seek medical treatment of bulimia
Undergo cosmetic dental restoration after recovery
Eat a healthy diet
To get the dental care you deserve from an affordable dentist in Palm Coast, call today at or make an appointment. offers affordable family dentistry and gentle, compassionate dental care in Palm Coast. Our offices are conveniently located with extended hours to meet your needs. At , we provide most dental services, from basic preventative care and general dentistry to specialized procedures and complete dental reconstruction. We accept most dental insurance plans and offer affordable financial solutions for any budget. Patient satisfaction is our top priority and we strive to provide the exceptional, affordable dental care and personal touch that lead to lasting relationships. A smiling patient is our greatest reward and we look forward to keeping those smiles healthy, beautiful, and bright. Discover an affordable dentist who truly cares at .