Posted under:
General
Posted on: November 29, 2013
Don't Be Stranded Without Dental Floss on National Flossing Day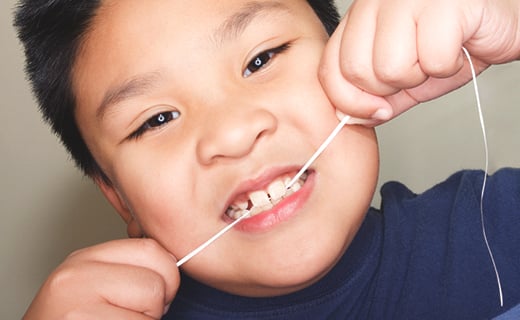 While most Americans are thankful on the fourth Thursday of November, dentists will be grateful for the fourth Saturday of that month this year. That's because Saturday, November 29 is National Flossing Day. Flossing is an important part of good dental care because it helps prevent tooth decay and gum disease. Unfortunately, it often gets overlooked because it takes a bit more time and effort than brushing. But that little extra effort can save you a lot of time, discomfort and expense involved in treating dental issues that could have been prevented by flossing. You really can't afford to ignore regular flossing because it makes a huge difference in your dental health. Flossing cleans the areas that your toothbrush can't reach to remove the food and bacteria that lead to plaque build-up, tooth decay and gum disease. With regular flossing, you can keep your teeth and gums as clean as possible. This can protect you from dental care problems and save you from the high cost of treatment, even with an affordable dentist. Experts in family dentistry advise flossing twice a day, but you need to floss correctly to get the full benefits. Start with about 18 inches of dental floss and wrap it between your fingers to make a taut strand. Gently slide the floss around each tooth, guiding it slightly below the gumline and then moving it up and down between the teeth to remove any particles and plaque. Be sure to use a fresh section of floss for each tooth. It's important to know that there are different types of dental floss with their own unique benefits. Nylon floss is the most common and is available in many flavors and in both waxed and unwaxed versions. While waxed nylon floss slides more easily between teeth and is favored by people with fillings or crowns, its nylon threads are likely to separate. PTFE floss slides most easily of all and doesn't shred or tear, but it tends to cost a little bit more. The choice is yours, what really matters is that you use it. If you find regular floss hard to handle or have limited dexterity from arthritis, then flossers are best for you. Flossers are disposable flossing tools that have a short strand of floss already stretched out and ready for use. Their small handle makes it easy to slide the floss between teeth and reach into tight crevices. As your dentist has told you, flossing is an essential part of a good dental care regimen. It reaches and cleans where your toothbrush can't, to protect you from dental problems. In honor of National Flossing Day on November 29, start flossing on a regular basis and celebrate the healthy results. To get the dental care you deserve from an affordable dentist in Palm Coast, call today at or make an appointment.  Advanced Dental Care offers affordable family dentistry and gentle, compassionate dental care in Palm Coast. With 21 affiliated practices throughout Florida, our offices are conveniently located with extended hours to meet your needs. At , we provide most dental services, from basic preventative care and general dentistry to specialized procedures and complete dental reconstruction. We accept most dental insurance plans and offer affordable financial solutions for any budget. Patient satisfaction is our top priority and we strive to provide the exceptional, affordable dental care and personal touch that lead to lasting relationships. A smiling patient is our greatest reward and we look forward to keeping those smiles healthy, beautiful, and bright. Discover an affordable dentist who truly cares at .