Posted under:
General
Posted on: May 20, 2013
Early prevention can inhibit gum inflammation and discomfort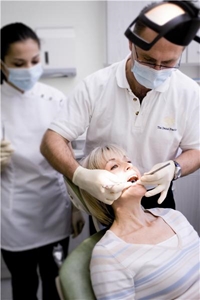 Unlike tooth decay, which may show itself early with steady throbbing or a sudden spurt of pain, gum disease can creep up slowly. Watching for the signs of gingivitis, or the more serious periodontitis, will save people from the discomfort of inflamed gums and possible loss of teeth that can result. The gums are an important part of the dental structure. They support the teeth securely to the bone and provide protective cover to the nerves and roots. When a tooth loosens, gum disease is often the reason. That's why paying attention to gum health is as important as taking care of one's teeth. Regular check-ups at the dentist office will allow the condition of gum tissue to be evaluated periodically. Any deterioration will show up on X-rays along with tooth decay that has developed. Dentists can also measure the gum pockets that surround the teeth to see if gums have receded, another sign that damage has begun. Causes of gum problems Although gum disease can develop in some cases as early as the teen years, it's usually a condition that is associated with aging. Most people don't experience this dental problem until they are past the age of 40, and it tends to worsen as people get older. Other factors can also bring about gum disease, such as pregnancy and the hormonal changes that stem from it as well as health problems such as diabetes, according to the American Dental Association. Certain medications may aggravate gum health as well. As a result, dentists should be told of any health issues that their patients are experiencing. Smoking and chewing tobacco can aggravate the gums because of the toxins they release into the mouth. Stopping the habit will not only curb the progression of gum inflammation, but will improve the appearance of teeth, which can yellow from contact with tobacco. Early signs While the teeth may remain healthy, if the gums aren't strong enough to support them, tooth loss can occur, according to WedMD.com. Receding gums, pain at the gum line, sensitivity to hot and cold or red and puffy gums are indications that inflammation is present and gum disease has begun. Gingivitis accounts for about 70 percent of gum disease and usually shows itself by bleeding when teeth are brushed and flossed or by the presence of continuous bad breath. It starts with bacteria lodged at the gum line when teeth aren't properly cleaned and can lead to inflammation. Left untreated, gingivitis may evolve into periodontitis, a more serious form of gum disease that occurs in about 30 percent of cases. Typically, periodontitis develops when inflammation has proceeded to the point that connective tissue and the bone that supports the teeth is affected. Reducing gum disease When people don't brush, floss and rinse with mouthwash on a regular basis, they aren't cleaning away substances such as food and beverages that will coat their teeth and irritate the gums. Dentists recommend gentle brushing with a soft-bristle brush because it is easier on the gums and tooth enamel. Brushing two or three times a day and flossing at least once is often recommended, along with regular rinsing with an antiseptic mouthwash. The importance of flossing at least once – and preferably twice – each day is also stressed by dentistry experts. Floss penetrates deeply between teeth to get rid of any food bits and bacteria that may remain after brushing. It also strengthens the gums and helps to remove plaque before it builds up to a damaging level.