Posted under:
General
Posted on: May 29, 2013
Florida works to improve children's dental health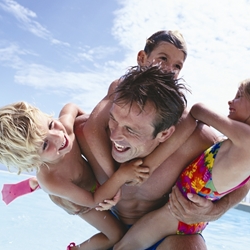 In light of a recent report released by the Pew Center on the States, many state governments are re-examining how they approach the issue of children's dental health. The report set out to determine how well states have been implementing dental sealant programs in schools, which have been proven to help reduce the rate of tooth decay among young people. The majority of states received either a C or a D on the report, which was based on and A through F ranking system. Clearly, there is room for improvement when it comes to how state governments address the dental health needs of young residents. Thankfully, this report has lead to a call to action for some states, who have decided to work to prove that children's oral health is a priority. For example, Florida was one of the states that received a D on the Pew Center report and according to the Orlando Sentinel, the state is currently working to change its reputation when it comes to the dental health of young people. New fluoride varnish According to the news source, more than 1,600 children in Florida's Orange County will soon take part in a new fluoride varnish initiative, which may soon expand to the rest of the state. According to state officials, studies have shown that this varnish may help reduce dental decay in children by 40 to 60 percent. Children who participate in the program will have a fluoride paint applied to their teeth to help protect the enamel. According to the American Dental Hygienists Association, fluoride is an element naturally present in water that can help strengthen the teeth and protect them against decay. Many communities add more fluoride to their water in order to ensure that their residents have healthy teeth. Along with being present in the water, fluoride is also found in some toothpastes, mouthwashes and other products that people use to enhance their dental health, including fluoride varnishes, such as the kind that Florida plans to offer to Orange County children. The American Dental Association states that fluoride gel is effective in reducing tooth decay in children, especially if it is applied every six months. This is why programs that encourage the application of these gels may be an effective way to increase the dental health of a large number of kids. An important issue According to the Orlando Sentinel, Florida residents should be concerned about dental care statistics in the state because not only is this a health issue, but a financial one as well. "Unnecessary dental-related trips to hospital emergency rooms add to states' financial burdens," the Pew report noted, according to the Orlando Sentinel "In Florida, the cost of treating dental problems in emergency rooms exceeded $88 million in 2010. ER treatment is not only expensive but is also typically incomplete, requiring patients to seek follow-up care from a dentist to address the underlying problem." The news source spoke to Roderick King, executive director for the Florida Public Health Institute, who explained that basic things such as sealants and programs that encourage people to brush their teeth regularly can go a long way in drastically improving the dental health of residents. Maria Demas, D.D.S., the dental executive director for the Orange County Health Department, said that she was surprised by the Pew report because she believed that the state had enough school-based dental health programs. However, these findings still suggest that more needs to be done in order to protect the teeth of Florida's youth.