Gum Disease – Understand It and Prevent It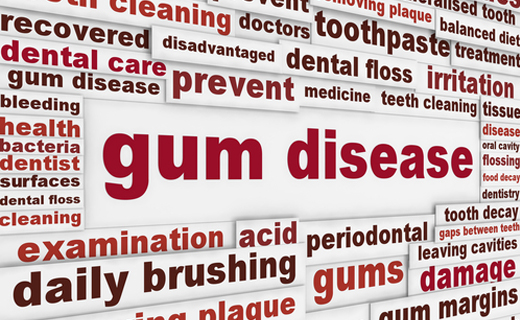 Do you know how to fight to save your teeth and gums when disease strikes? If your dentist has told you that you have gum disease, you are facing one of the most common dental problems. Also called periodontal disease, gum disease affects people of all ages and from all walks of life. You may have a mild form of gum inflammation called gingivitis or a more advanced case of periodontitis. In the worst cases, you could lose your teeth. Fortunately, if you care for your teeth and gums consistently from this moment on, you may be able to halt or even reverse some of the damage. Root Causes of Periodontal Disease

 Gum inflammation begins when a sticky, bacteria-filled substance called plaque builds up on the surface of your teeth. If you don't brush and floss properly, plaque bacteria cause inflammation and redness known as gingivitis. At this stage, the damage is often reversible. If left untreated, it will eventually progress. In reaction to the toxins produced by bacteria and the immune system's attempt to battle the infection, gums will pull away from teeth and pockets will form at the gum line. Called periodontitis, this advanced form of gum disease involves the connective tissues and bones that hold your teeth in place. Symptoms of Gum Disease
Persistent bad breath
Swollen, sore, or red gums
Gums that bleed easily
Loose teeth
Tooth sensitivity
Gums receding or teeth that appear longer
Are You at Risk? 

 Anyone can develop unhealthy gums, but the following may increase your risk:
Smoking
Diabetes, AIDS, cancer, or immune diseases
Family history of gum problems
Medications that reduce saliva flow
Hormonal changes
Treating Periodontal Disease

 Depending on the severity of your disease, one or more of the following professional treatments may be required:
Smoking cessation
Professional scaling and root planing
Oral antibiotics or gels
Antimicrobial mouth rinses
Gum surgery
Stop Problems Before They Start

 You can keep your gums healthy with a strict oral hygiene routine. Brush your teeth twice every day with fluoride toothpaste. Floss daily, and visit your dentist for routine check-ups and professional dental cleanings. To learn about our family dentistry practice in Palm Coast, call today at or make an appointment. offers affordable family dentistry and gentle, compassionate dental care in Palm Coast. Our offices are conveniently located with extended hours to meet your needs. At , we provide most dental services, from basic preventative care and general dentistry to specialized procedures and complete dental reconstruction. We accept most dental insurance plans and offer affordable financial solutions for any budget. Patient satisfaction is our top priority and we strive to provide the exceptional, affordable dental care and personal touch that lead to lasting relationships. A smiling patient is our greatest reward and we look forward to keeping those smiles healthy, beautiful, and bright. Discover an affordable dentist who truly cares at .