Posted under:
General
Posted on: July 11, 2014
How to Find a Dentist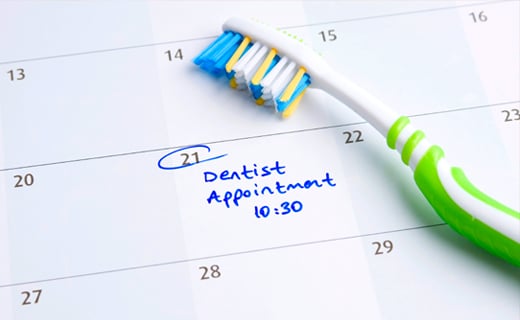 Finding a dentist for your family can seem like a difficult task. How do you find an affordable dentist who does their job well and cares as much as you do about the health of your family? A quick online search of local dentists shows mere words on a page, but you need more. And you can get more information—you just have to know the right questions to ask. The American Dental Association (ADA) wants to help you find the perfect dentist in your area to care for your oral healthcare needs. Use this list from experts to find a quality dentist anywhere life may take you. Who to Ask About Finding Local Dentists
Get to know your neighbors and coworkers and ask for recommendations from people who you identify with and are familiar with the area. If you have family in the area, get their recommendations.
If you have a relationship with a local physician or pharmacy, ask for their recommendations for local dentists.
If you are in the process of moving, ask your current dentist if he or she has any recommendations or connections to put you in touch with local dentists at your new destination.
Contact the state or local dental society, which may be found on ADA.org or in the telephone book under "dentists" or "associations."
Search online for "find a dentist near me" or "local dentists" and read the reviews of offices in your area. Gather information and inquire further about your top choices with friends, family, and coworkers.
Before you make a firm decision, visit the dental offices you are deciding among. Get a feel for the ambiance, the friendliness of the staff and, if possible, the dentist. Your comfort level with the environment is a big part of how you will feel about your routine visits.
Questions for Determining the Right Dentist Your dentist is someone you need to be comfortable with; after all, you are partners in your oral healthcare. You not only want to find a dentist near you, but you need to find someone who genuinely cares about the health of you and your family and someone that you don't mind visiting at least twice per year. Ask these questions  when considering local dentists:
Dental Office Hours: Are they convenient for your schedule? Does the dentist have emergency hours available too?
Missed Appointments: What is the dental office's policy on missed appointments?
Location: Is the dentist easy to get to from work, home, and your child's school?
Expertise & Experience: Where was your dentist educated? Where did he or she complete training? How often does the dentist attend continuing education opportunities?
Scope of Practice: What are the dentist's views on preventive dentistry? Wisdom teeth? Orthodontics?
Anesthesia: Is the dentist certified to administer anesthesia? If so, which forms? Does the dentist offer anesthesia for comfort and relaxation during complex visits or only for specific procedures?
Costs: Is information about pricing, fees and payment option offered up front when the treatment is scheduled? If not, what are the prices of common procedures, such as basic cleaning, oral exams, full-mouth x-rays, and cavity fillings?
Insurance: Does the dental office accept insurance? If so, which plans? What is covered by your plan?
The Environment & Staff: Does the office appear to be clean and organized? Do all surfaces and equipment in the treatment room appear clean? Is the dental staff helpful and willing to answer your questions? Do you observe the dentist and staff wearing gloves and other protective gear during actual patient treatment?
It is important to take your time and perform complete research. Don't just choose any dentist, choose a dental care office that has your best interests in mind and makes you feel comfortable every time you visit. To get the dental care you deserve from an affordable dentist in Palm Coast, call today at or make an appointment. offers affordable family dentistry and gentle, compassionate dental care in Palm Coast. Our offices are conveniently located with extended hours to meet your needs. At , we provide most dental services, from basic preventative care and general dentistry to specialized procedures and complete dental reconstruction. We accept most dental insurance plans and offer affordable financial solutions for any budget. Patient satisfaction is our top priority and we strive to provide the exceptional, affordable dental care and personal touch that lead to lasting relationships. A smiling patient is our greatest reward and we look forward to keeping those smiles healthy, beautiful, and bright. Discover an affordable dentist who truly cares at .