Posted under:
Root Canal
Posted on: November 19, 2020
Invisalign: Frequently Asked Questions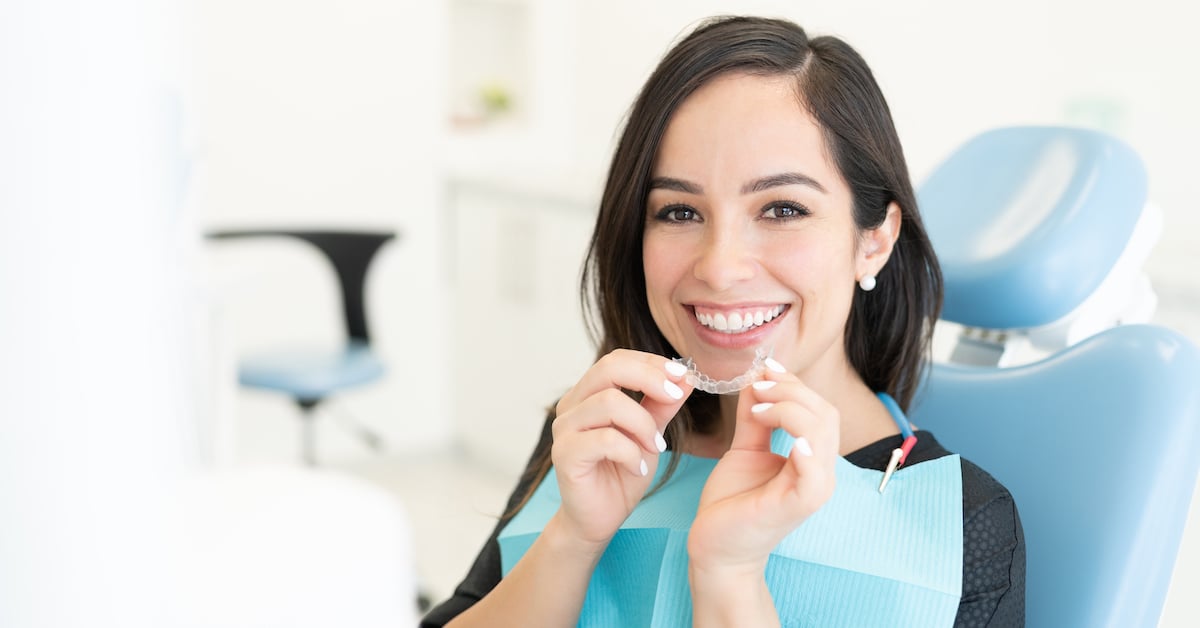 If you suffer from orthodontic problems such as misaligned or crooked teeth, you've probably found yourself hiding your smile from the world. If you're looking to improve the look and function of your smile but want to avoid unsightly treatment options such as traditional metal braces, you may be interested in an innovative method of treatment known as Invisalign.
Can You Give Me More Information on Invisalign?
Invisalign is a treatment option that allows you to forgo traditional wire-and-bracket braces. This system is comprised of a set of clear, plastic aligner trays that are worn over the teeth. The trays gently push and guide the teeth into their proper alignment. Since the company uses an extremely flexible form of plastic known as SmartTrack, the aligners are comfortable to wear. Moreover, the clear aligners aren't as noticeable as other treatment options – meaning that you can hide the fact that you are receiving orthodontic treatment.
Can Anyone Get Invisalign?
While Invisalign is a popular method of treatment, it is not for everyone. Teens and adults who have mild to moderate orthodontic issues are the best candidates for this system. Invisalign can help patients who have crowded teeth, gapped teeth, or an overbite or underbite. Patients exhibiting more complex issues will need to pursue treatments such as braces or headgear.
If you're wondering whether you're a good candidate for Invisalign, consider the following points:
Your teeth and jaws need to be fully grown in order to receive this treatment. This means that Invisalign isn't a good treatment method for smaller children or younger teenagers who are still growing.
You need to stick to your treatment schedule. Your aligners should remain in your mouth for approximately 20 to 22 hours every single day. If you're forgetful, you may find a semi-permanent treatment solution such as braces to be a better choice in treating your issues.
If you want an incredibly discreet treatment option, Invisalign is an excellent choice. You will be able to go about your daily life without it being obvious that you are wearing a corrective orthodontic device.
While you may think that you are a good candidate for Invisalign, the decision as to whether or not this treatment will work for you is ultimately made by your dentist or orthodontist. If you have any concerns or questions, you can contact our office to book an appointment for a consultation.
What Is the Invisalign Treatment Process Like?
There is no one-size-fits-all Invisalign treatment plan. Each and every course of treatment is customized based on the patient and his or her unique orthodontic needs. After you have had a consultation with a qualified Invisalign provider, you and your dentist will decide whether you should pursue this treatment. If you decide that you want to have the treatment, your dentist will create a customized plan so that you will know exactly what to expect throughout every stage of the treatment process.
A mold will then be made of the inside of your mouth. This mold will be the model used to create your aligners. You will be provided with multiple aligners. Every week or two you will need to switch aligner sets. This is due to the fact that each aligner set is different and will gradually shift your teeth into place.
Many Invisalign patients are finished with their treatment within 12 to 18 months. The amount of time that you undergo treatment could be more or less than that length of time. It all depends on your goals, as well as how complex your issues are and how well you do with following your dentist's recommended treatment plan. In order to ensure that you are making good progress, your dentist will need to see you every four to six weeks. Most patients start to see results in as little as three weeks.
Will I Have to Make Lifestyle Changes While I'm Receiving Invisalign Treatment?
Most people who have Invisalign treatment don't have to make a whole lot of changes to their lives. Since the aligners are removable, you won't have any restrictions on food and beverages. You will need to take out your aligners when you eat, drink, brush your teeth and chew gum. It is also recommended that you avoid smoking.
You may experience a feeling of pressure on your teeth whenever you move to the next step of your treatment and switch out one set of aligners with another. This is because the teeth are being guided into the desired position. This feeling should go away in a few days.
Some people worry that the aligners will negatively impact their ability to speak. When you put your first set of aligners in, you may need a few days to adjust to having them in your mouth. However, once the first few days have passed you should be back to speaking normally.
Invisalign aligners are less noticeable than many other forms of treatment; however, they are not totally invisible. Most people won't be able to tell that you are have them in unless they are speaking to you close up. If you are worried about having the aligners in for an important event, you can always take them out until the event is finished.
What Happens After I've Finished?
When you have reached your alignment goals, your dentist will tell you to remove the final set of aligners. After this, you may be expected to wear a retainer in order to preserve the progress made during the course of treatment. It's important to remember that this is an investment in your teeth, so be sure to follow the instructions from your dentist and return for check ups as needed to prevent your teeth from returning to poor alignment.
Where Can I Get Invisalign?
Not every dentist can offer Invisalign. Dentists providing this type of treatment need to undergo special training. Our team has been trained in providing Invisalign treatment. To schedule an appointment with one of our trained providers, contact us as soon as possible.