Posted under:
General
Posted on: May 1, 2015
Managing Your Child's Fear of the Dentist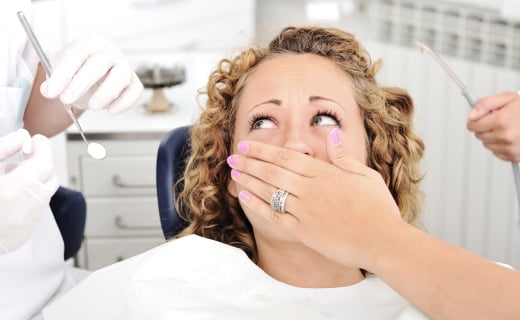 If your child has a deep-rooted fear of the dentist, all the promises and bribes you can muster won't stop the crying and screaming you'll encounter when the day of a dental exam arrives. Dental anxiety is common in children of all ages, and it creates a challenge for parents and dental professionals alike. Without proper dental care, your child's oral health is at risk, so avoiding the dentist is not an option. Fortunately, there are ways you can ease a dental phobia. The following age-appropriate tips can help. Easing Dentist Phobia in Infants and Toddlers Make a dental appointment for your baby by his or her first birthday. Maintain a calm and soothing demeanor, and only discuss dental topics in positive terms. Your child can easily pick up on your own dental anxiety. To make dental visits more comfortable, bring along a favorite toy or blanket. Managing Dental Anxiety in Teens

 Teens may be embarrassed to admit they have a fear of the dentist, so try to be understanding. Encourage your teen to ask questions, and share concerns about an upcoming dental treatment or exam. Understanding what is going to happen during treatment can help decrease dental anxiety. Ask the dentist to explain procedures in detail, so your teen will know what to expect. You can also introduce your teen to meditation, biofeedback, or guided relaxation programs to help ease anxiety. Dental Anxiety Tips for All Ages Seek a dentist who specializes in treating young patients with dental anxiety. Many pediatric dentists have kid-friendly waiting rooms with bright decor and a number of toys, games, and other distractions to make visits more enjoyable. After a successful dental exam, be sure to praise and reward your child for good behavior. Be Sure to Address Your Own Dental Phobia

 According to a study released by Delta Dental in conjunction with National Anxiety Month in April, parental dental anxiety can be passed along to children. The nationwide poll revealed that the percentage of parents affected by dental phobia matched the percentage of children reporting the same fear of the dentist. To avoid sharing your fearful view of dentistry with your children, it's important to manage your own negative emotions. A variety of anxiety-busting techniques can make your treatment experience easier; these include meditation, guided relaxation, use of headphones, and the presence of a good friend. However you choose to battle your fear, don't share negative dentist experiences or dental anxiety with your children. To learn about our family dentistry practice in Palm Coast, call today at or make an appointment. offers affordable family dentistry and gentle, compassionate dental care in Palm Coast. Our offices are conveniently located with extended hours to meet your needs. At , we provide most dental services, from basic preventative care and general dentistry to specialized procedures and complete dental reconstruction. We accept most dental insurance plans and offer affordable financial solutions for any budget. Patient satisfaction is our top priority and we strive to provide the exceptional, affordable dental care and personal touch that lead to lasting relationships. A smiling patient is our greatest reward and we look forward to keeping those smiles healthy, beautiful, and bright. Discover an affordable dentist who truly cares at .