Reasons and Remedies for Tooth Discoloration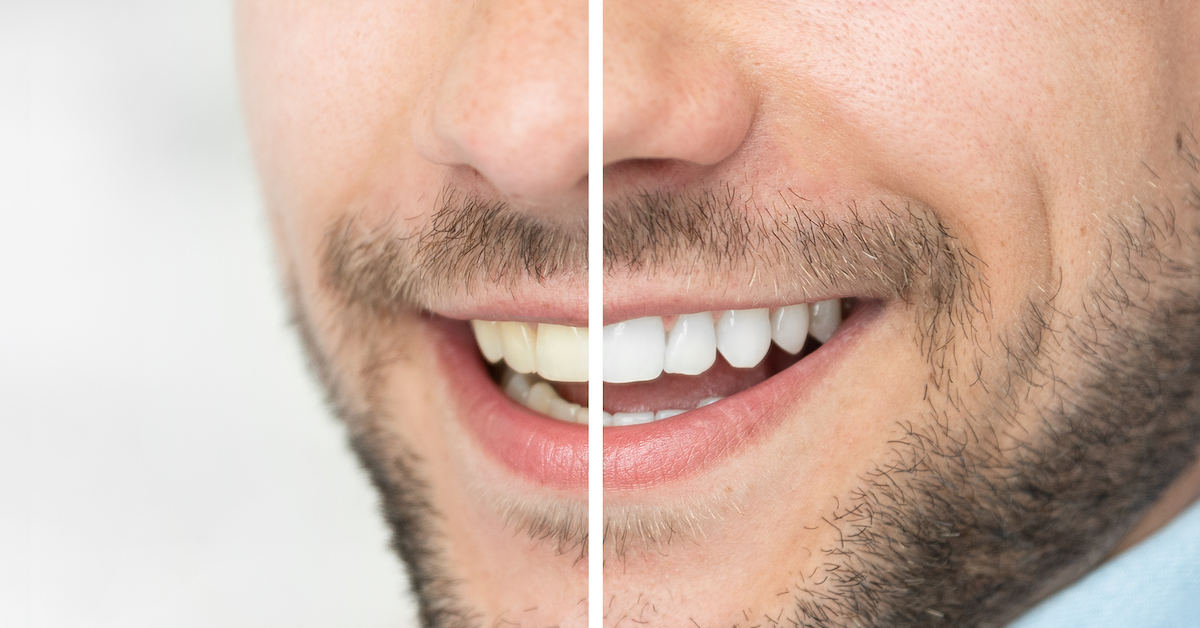 Are dull, discolored teeth detracting from your smile? Do you wish you had a bright, beautiful smile to show the world? Well, stained and discolored teeth could be a thing of the past for you, depending on what has caused your stains. Stained teeth don't have to be permanent, especially with the variety of whitening options available to patients today. See our dentist so he or she can evaluate the cause of the discoloration and make recommendations for treatment.
What Factors Cause Tooth Discoloration
Multiple factors can cause tooth discoloration. As we age, the enamel wears off our teeth and exposes the yellow dentin below. Other factors beyond your control include discoloration, particularly brown or black spots, from injuries and internal staining from certain medications. These are known as intrinsic stains. No amount of bleaching can repair these stains. Fortunately, dentists can hide stained teeth with veneers, bonding, or crowns to repair your smile.
Factors that can turn your teeth yellow, which are in your control to stop, include tobacco use and consuming certain foods and beverages. These are extrinsic stains. There are treatments available, ranging from using over-the-counter products to dentist administered treatments, that can whiten your teeth.
Foods and Beverages That Can Dull your White Smile
Even the healthiest of foods and drinks can stain your smile if you don't have good brushing and flossing habits. You don't have to stop eating the foods below, but you should at the very least take steps to counteract their effects. The list includes:
Coffee and black tea, and other dark beverages like red wine, cranberry and grape juice and more.
High-sugar foods and beverages, such as energy drinks, slushies, popsicles, ice cream, hard candies and more.
High-acidic foods like tomato sauce and citrus
If a food or drink will stain your white shirt, it will also stain your teeth.
Is There Anything I Can Eat or Drink to Help Keep My Teeth White?
The foods and drinks below promote whiter teeth either by scrubbing and cleaning teeth as you eat or because of the compounds they contain, such as malic acid or acid-neutralizing compounds. Most work by scrubbing teeth or helping to strengthen enamel. Pineapples and strawberries contain natural stain-fighting enzymes and acids.
Water
Yogurt, cheese and other unsweetened dairy products
Raw Carrots, onions, celery, and cauliflower
Apples and pears
Pineapples
Strawberries
Can Tobacco Use Be Yellowing My Teeth?
Yes, it will. Even if you drink coffee all day long or enjoy the occasional red wine, nicotine is worse, staining your teeth more easily than anything else. Quitting can make a major difference in the appearance of your teeth.
Tobacco and Tooth Discoloration
Once you start using tobacco, it won't take long for your teeth to appear yellow. The outer enamel is porous and easily absorbs nicotine. Chronic smokers have teeth that are stained brown if they don't take steps to minimize staining or whiten their teeth.
If You Smoke, You Can Help Prevent Teeth Staining
If you smoke and want to limit teeth staining:
Brush two times a day and floss once daily.
Brush after using a tobacco product.
Have your teeth professionally cleaned twice a year at your local dentist's office.
How Can Smokers Get Whiter Smiles?
It's challenging for smokers to keep their teeth white, but these are the best options:
Brush two times a day, floss once a day and use a mouthwash twice daily.
OTC whitening gels that you place in a tray can help whiten teeth. Your dentist can provide a professional-grade kit that works the same way, but produces better results.
Whitening strips are convenient to use, but only effective at treating mild staining from tobacco use.
A professional whitening treatment at your dentist's office offers the fastest, most dramatic results.
What Can I Do to Prevent or Limit Discoloration on My Teeth?
You can do several things to avoid stained teeth:
Always practice proper dental hygiene, brushing and flossing at least twice daily.
See a dentist every six months for a routine exam and teeth cleaning.
Brush after consuming food or drinks that stain teeth.
If you can't brush afterward, rinse your mouth with water or chew sugarless gum.
Eat a healthy diet rich in foods that fight teeth staining.
What Are My Options for Whitening My Teeth?
There are at-home and in-office teeth whitening options, including:
Whitening Toothpastes – Whitening toothpastes have abrasives in them that scrub away stains. Some also contain hydrogen peroxide. You can expect your teeth to lighten by one or two shades over time.
Whitening Strips – You wear whitening strips twice daily for about 30 minutes. In two weeks, you can expect your teeth to be one or two shades lighter.
Whitening Rinses – You would normally use rinses to whiten your teeth for a minute twice a day. Since they do not remain in contact with teeth for long, it may take several months to lighten teeth by one shade.
Tray Whitening Kits – These kits include a tray, which resembles a mouthguard, that you fill with a whitening agent and place over your teeth. Normally you wear the tray for an hour a night for several weeks. You can buy tray whitening kits over-the-counter or a dentist can create one for you. The ones available from your dentist include a custom made tray and professional-grade whitening solutions. Some spas and cruise ships offer teeth whitening with tray systems, but they are not provided by dentists and we urge you to use caution. A dental professional is needed to provide a dental exam first or to determine if the bleaching agent is safe for your teeth if you have restorations or dental problems.
Chairside Whitening – Often called in-office whitening, this is the most effective and speedy option. You can have significantly whiter teeth in one afternoon. You will also have a dentist determining your suitability by performing an exam first.
If you have tooth discoloration, contact us for a customized treatment plan to get your dazzling smile back.