Posted under:
General
Posted on: March 6, 2015
The Myth of Root Canal Pain – Here's What Really Happens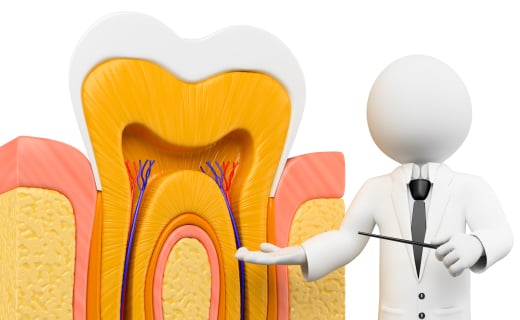 Tooth pain and other symptoms are often relieved with root canal treatment. The internal structure of your tooth, which is called the pulp, contains living blood vessels and nerve tissues. Chips, cracks, gum disease, injury, and tooth decay can cause this tissue to become infected and inflamed. A root canal treatment removes the diseased pulp that is the source of your pain and infection. Neglecting to address your tooth problem can have serious consequences, including the spread of infection to your bone. Finding an affordable dentist, and getting a root canal treatment can prevent complications and allow you to keep your natural tooth. Is Root Canal Pain Really a Myth? If you've heard that root canal pain is horrible, you've encountered a common and outdated myth. When modern anesthetic options are used, root canal treatment is no more painful than getting a standard filling. Don't avoid treatment because of misinformation. Root canal therapy doesn't cause pain; it relieves it. How is an Endodontist Different from a General Dentist? An endodontist is a dentist who is specially trained to diagnose and treat problems involving the tooth's pulp, and perform advanced root canal procedures. Your general dentist may refer you to a specialist in endodontics in Palm Coast for treatment when and if you need a root canal. What are the Steps of Root Canal Therapy?
You will be given anesthesia injections, so you won't feel any discomfort.
Your endodontist will place a dental dam to isolate the affected tooth.
A hole is drilled to allow access to the pulp and roots.
Diseased pulp is removed, and root canals are cleaned out and disinfected.
Your endodontist will shape the canals, so filling material can be inserted easily.
Rubber-like material is placed into the canals, and they are sealed to prevent re-infection.
The access hole is sealed.
The tooth is fitted for a permanent crown to protect it and restore function.
How Can I Find Experts in Endodontics in Palm Coast? Locating the best specialists in endodontics in Palm Coast may be as simple as asking your family dentist or looking through your local directory. Once you find a trusted provider, schedule an appointment, and let your endodontist help you keep a healthy smile for life. To learn about our family dentistry practice in Palm Coast, call today at or make an appointment. offers affordable family dentistry and gentle, compassionate dental care in Palm Coast. Our offices are conveniently located with extended hours to meet your needs. At , we provide most dental services, from basic preventative care and general dentistry to specialized procedures and complete dental reconstruction. We accept most dental insurance plans and offer affordable financial solutions for any budget. Patient satisfaction is our top priority and we strive to provide the exceptional, affordable dental care and personal touch that lead to lasting relationships. A smiling patient is our greatest reward and we look forward to keeping those smiles healthy, beautiful, and bright. Discover an affordable dentist who truly cares at .