Tips for Teen Teeth from Pediatric Dentists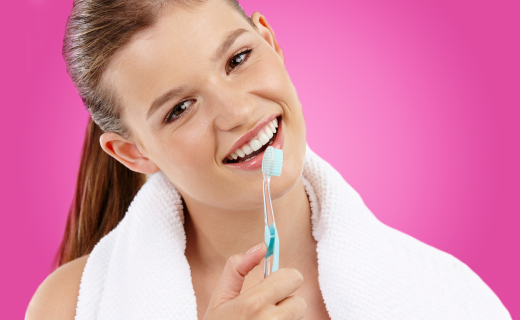 Teens worry about almost everything, but don't seem to have any cares or concerns about their dental health. While growing up, it was parents who made teeth a top concern and took kids to pediatric dentists for regular check-ups. But once teens reach a certain age, they take control of their choices and many choose not to visit the dentist. But their dental health is suffering and they're sacrificing their smiles. Yet teens won't neglect their teeth if they can follow these healthy tips. Limit Soft Drinks More often than ever, teenagers are reaching for soft drinks to quench their thirst, but the acids and sugars they contain are eating away at their delicate tooth enamel. After years of drinking soft drinks, most teens have serious dental problems and are forced to seek major treatment at affordable family dentistry practices. It's unlikely that teens will completely stop drinking sodas, so pediatric dentists recommend that they try to reduce the amount they drink, sip through a straw to limit contact with teeth, and rinse their mouths with water after drinking sodas. Don't Get Tongue Piercings Piercing the tongue and mouth has been popular among teens for years, despite the scary stories of problems from their piercings. These piercings can cause teens to chip their teeth while eating, talking, and sleeping. If these chips turn into fractures, a kids dentist may need to perform a root canal or extract the damaged tooth. The most common complaint is infections, which can cause the tongue to get badly swollen and lead to diseases like hepatitis. That's why pediatric dentists strongly warn against pursuing these piercings. Practice Proper Dental Hygiene It seems like teens today are living on fast food and nutrition bars. Busy teens may have a lot to do, but they also have a lot to lose by not eating a well-balanced diet. In addition to harming their overall health, the habits can hurt their dental health. But rather than let bad foods eat away at their teeth, teens need to develop the following good habits:
Eat healthy snacks, like veggies, fruits, and low-fat cheese.
Keep a travel-sized toothbrush and toothpaste in a backpack, locker, or handbag so it's always convenient to brush.
Chew sugarless gum after eating to help clean the mouth.
Drink water all day to rinse away food debris and bacteria.
Wear a Mouth Guard When Playing Sports Contact sports are popular with teenagers, but they may not be aware that such sports can cause injuries to the teeth, mouth, and jaw. Athletic teens can protect their smiles by getting a mouth guard to wear during sports. Teens can get these with little cost or effort at an affordable family dentistry practice. But teens must remember to care for these guards by rinsing them often and storing them properly. To learn about our family dentistry practice in Palm Coast, call today at or make an appointment. offers affordable family dentistry and gentle, compassionate dental care in Palm Coast. Our offices are conveniently located with extended hours to meet your needs. At , we provide most dental services, from basic preventative care and general dentistry to specialized procedures and complete dental reconstruction. We accept most dental insurance plans and offer affordable financial solutions for any budget. Patient satisfaction is our top priority and we strive to provide the exceptional, affordable dental care and personal touch that lead to lasting relationships. A smiling patient is our greatest reward and we look forward to keeping those smiles healthy, beautiful, and bright. Discover an affordable dentist who truly cares at .