Posted under:
General
Posted on: May 14, 2013
Today's dentures vary according to need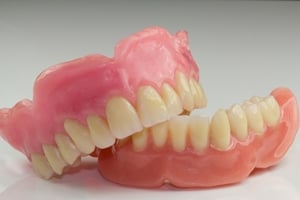 Many people dread the day when their family dentist tells them to consider getting dentures. Stereotypes about not being able to eat their favorite foods or about discomfort and slippage scare them away from wearing "false teeth." But when it comes to dentures these days, one size definitely doesn't fit all. There are a variety of dental forms that can replace all the teeth or selected sections in the mouth. Not only is that an improvement over the old days when there were no such choices, but today's dentures have a more natural look than in earlier generations. Partial dentures, for instance, fill in spaces between teeth. They can be fitted over existing teeth or dental implants. While not a permanent fixture – they must be removed at night, as with a full set – they are held in place quite securely. Another option is go with permanent, implant-supported dentures. They resemble a dental bridge, but have more stability than removable versions. These dentures are more expensive because the fitting and implant procedure is more intricate than designing a temporary style. When oral health warrants the removal of all someone's teeth, traditional full-mouth dentures are available. But strides have been made in perfecting adhesives and cleaning solutions so that dentures are more comfortable, stable and attractive than in past years. Handle with care Having a mouthful of teeth removed to make way for dentures doesn't let people off the hook when it comes to practicing good dental hygiene. If anything, the daily removal of the apparatus demands optimum care so hurtful bacteria don't form on gums and lead to plaque build-up on the teeth. To prevent breakage, dentists recommend that during daily cleanings the wearer should place the apparatus on a towel on the bathroom counter. Either fill the sink with water or lay a facecloth or small towel in the sink in case the dentures are dropped. Using a soft-bristle toothbrush, wearers should brush their gums, any remaining teeth, the tongue and crevices in the mouth palate to fully clear out bacteria. After meals, dentures can be rinsed with water to remove any food particles that cling to the apparatus. A non-abrasive denture cleanser should be used with a soft-bristle brush to clean them at least once a day. They can be soaked overnight in water, although many people prefer a soaking solution for additional cleanliness. When using solutions, the dentures must be rinsed thoroughly before reinserting the apparatus.