When to Seek Help for a Dental Emergency in Palm Coast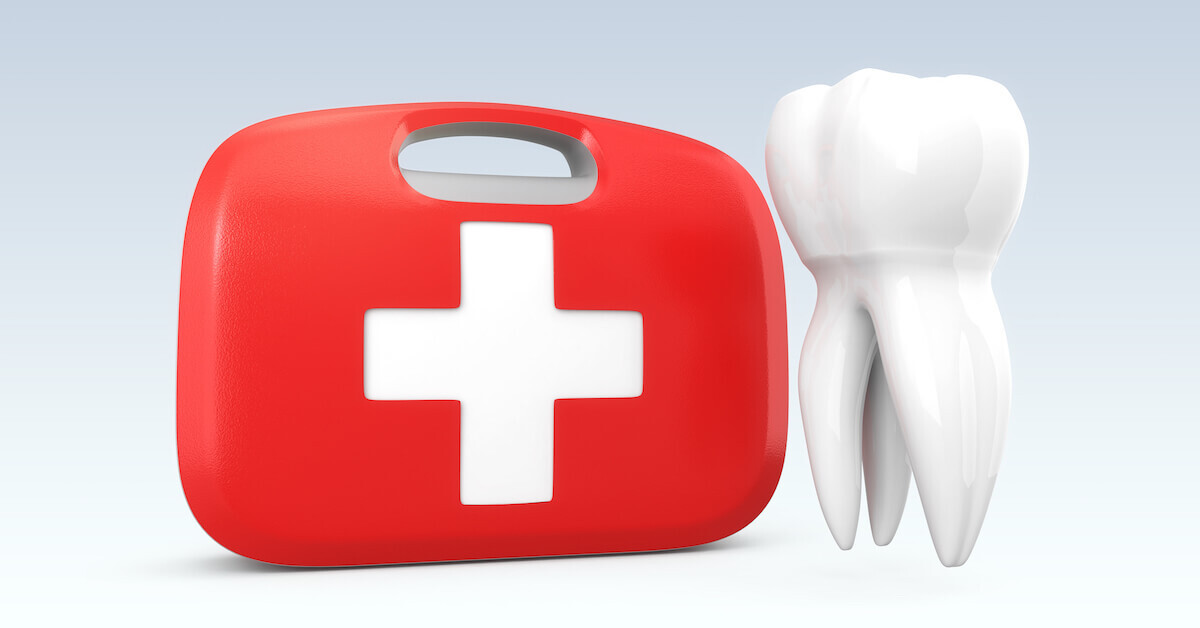 You can have a dental emergency in Palm Coast at any time, but a sudden, severe toothache or breaking a tooth will usually come at the most inconvenient times. We've seen patients who have a dental emergency the day before their wedding or big job interview. It is frightening if you don't know what to do in an emergency, but we can help. Knowing who to call and what to do before your appointment will help make the experience less scary.
What Is Regarded As a Dental Emergency?
Dental emergencies are any conditions which cause pain that you cannot alleviate with an OTC pain reliever. Trauma to the mouth is also an emergency, as is an infection. Untreated cavities in adults are one of the main reasons for emergency dental appointments. Other reasons include:
Mouth injuries
Mouth pain with a fever
Chipped or fractured teeth
Throat swelling originating from the mouth
Knocked-out tooth
Sometimes a dental emergency isn't painful, just annoying. Examples include:
A broken dental bridge or other restoration
Loose or missing filling
Having a veneer or crown come off
Sudden tooth sensitivity
Bleeding gums when you brush or floss
7 Reasons to Find Emergency Services from a Dentist
If you have a dental emergency in Palm Coast, we accept new patients for urgent appointments. Common reasons people call include:
1. Excessive Oral Bleeding: If you hold a tea bag or cold compress on a wound for 10 minutes and it is still bleeding, the bleeding is not under control. You will need emergency dental treatment for uncontrolled bleeding.
2. Lost or Broken Filling: If you lose a filling, the cavity may be sensitive. Try to keep the area clean until you can come in for a new filling. While a lost filling is a minor dental emergency, you can wait a day if you are very careful and use temporary filling material to keep debris out of the cavity.
3. Knocked-Out Tooth: A knocked-out tooth is always considered a dental emergency as you only have about one hour to get to a dentist to save the tooth. If you can recover your knocked-out tooth, you should very gently wash it off holding it by the crown. You can put it in milk to keep the tooth alive. It's essential that you see a dentist very quickly so he or she has a chance of saving your tooth. You can buy an ADA-approved emergency tooth preservation kit in drug stores, which can preserve a tooth for 24 hours.
4. An Injury to Your Gum: If you injure your gum, hold a cold compress on it to stop the bleeding. If you cannot stop the blood from flowing after 15 to 20 minutes, or if you may have damaged a tooth as well, please contact us for an emergency appointment.
5. Facial Swelling: Swelling can be a sign of an infection or other dental problem. An infection, usually in the form of an abscess, is a dental emergency.
6. Dry Socket Pain: Dry socket pain is a dental emergency because the pain is often intense. After a tooth removal, a blood clot forms which is the basis for new gum tissue. If the clot fails to form, dissolves or gets dislodged, you will feel severe pain. While rare, dry socket can occur two to three days after your extraction. If you follow the aftercare instructions and don't smoke, you can reduce your risk of having a dry socket emergency.
7. A Lost Filling: A lost filling may not sound like a dental emergency, but you need the filling replaced within a day or two. Bacteria can get in the cavity causing further damage. The tooth is also more likely to break without the dental filling.
Why a Tooth Abscess Is Always a Dental Emergency
Dental abscesses are infections that occur inside or very near a tooth's root. They often cause tremendous pain, which is why many people seek emergency treatment. Besides the pain, there is another reason to call our dental office right away: the infection can spread and cause serious problems. Symptoms of the infection spreading can include:
Fever
Dehydration
Fatigue
Dizziness
If you have an abscess, please contact us immediately, especially if it is accompanied by any of the above symptoms. Our dentist can drain the abscess, start you on antibiotics and determine if he or she can save the tooth with a root canal.
Dental infections usually start with an untreated cavity; however, they also can occur when a tooth fracture allows bacteria to get into the pulp. Teeth can also become infected if a root canal fails or wisdom teeth partially erupt.
What Happens If I Break a Tooth?
It's fairly easy to chip or break a tooth. You can fall on a sidewalk or bite down on something hard. Sometimes, our dentist can smooth out a chip or use a filling for a cosmetic fix. If your tooth has a bad break, it may need a crown placed over it. If this happens to you, call us for emergency treatment. If possible, bring the broken piece of tooth with you to your appointment.
If you engage in contact or extreme sports, ask our emergency dentist to fit you with a custom mouth guard to protect your teeth, tongue and jaw. He or she can also create a night guard for you if you clench or grind your teeth while you sleep, as this can crack your teeth as well. Boil-and-bite mouth guards also work, although they don't provide the same custom fit.
When you have a dental emergency in Palm Coast, our team is here to provide expert advice and treatment. Please call us or contact us online to arrange walk-in dental care.