Posted under:
General
Posted on: December 26, 2014
You and Your Wisdom Teeth – Are Tooth Extractions Necessary?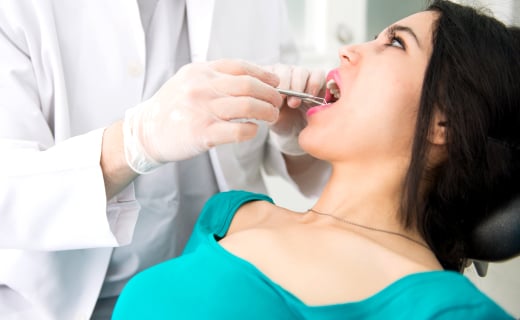 Wisdom teeth or third molars are located in the far back corners of your mouth. They usually erupt between the ages of 17 and 21, but in many people, they're trapped beneath gum and bone tissues and can't come in correctly. Wisdom teeth may try to erupt at an awkward angle, and this may threaten the health of adjacent teeth. Impaction is the most common reason for wisdom teeth extractions. If you can't see three molars in each quadrant of your mouth, you may have an impacted wisdom tooth. Impacted wisdom teeth trying to erupt may produce a feeling of pressure or dull throbbing at the back of the jaw. If an impacted tooth becomes infected, jaw or facial swelling is possible. Panoramic x-rays and other tests can verify their presence. Are Wisdom Teeth Extractions Always Necessary? If wisdom teeth are not causing any problems, tooth extractions are not necessary. Many erupt normally and can be treated the same as any other tooth. As long as the tooth can be easily brushed and flossed, it is safe to leave it in the mouth. Extraction is usually recommended if the tooth has partially erupted and is a source of inflammation or infection. The soft-tissue growth that covers a partially erupted wisdom tooth may become infected when bacteria find their way beneath it. Another reason for removing a wisdom tooth is poor positioning, which may result in periodontal pockets, tooth crowding, or receding gums. How to Manage Intact Wisdom Teeth

 If gum tissue covering wisdom teeth causes symptoms, it can be modified without extracting the tooth. If you have an intact wisdom tooth, you may need to change the angle when you brush or floss more frequently to get the best results. Consult an affordable dentist to evaluate and manage or extract wisdom teeth. To learn about our family dentistry practice in Palm Coast, call today at or make an appointment. offers affordable family dentistry and gentle, compassionate dental care in Palm Coast. Our offices are conveniently located with extended hours to meet your needs. At , we provide most dental services, from basic preventative care and general dentistry to specialized procedures and complete dental reconstruction. We accept most dental insurance plans and offer affordable financial solutions for any budget. Patient satisfaction is our top priority and we strive to provide the exceptional, affordable dental care and personal touch that lead to lasting relationships. A smiling patient is our greatest reward and we look forward to keeping those smiles healthy, beautiful, and bright. Discover an affordable dentist who truly cares at .