General Dentist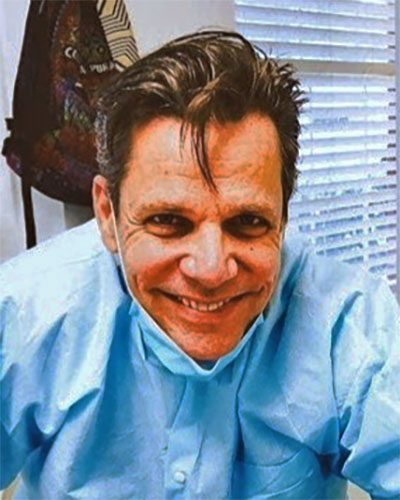 English: Dr. Angel Garcia is a distinguished figure in the field of dentistry, specifically Palm Coast, where he has serviced his community for over 10 years. He earned his Doctor of Dental Surgery degree in 1996 from Marquette University Dental School. Additionally, he did his Pedodontics (children's dentist) residency at Miami Children's Hospital. Where he learned how to work with children and manage growth and development by using interceptive Orthodontics (a much more affordable option than traditional braces for teenagers and adults).
Español: El Dr. Ángel García es una figura distinguida en la odontología, específicamente en Palm Coast, donde ha prestado sus servicios a la comunidad durante más de 10 años. Obtuvo su título de Doctor en Cirugía Dental en 1996 en la Escuela de Odontología de la Marquette University Dental School. Además, realizó su residencia en Pedodoncia (odontología infantil) en el Miami Children's Hospital, donde aprendió a trabajar con niños y a manejar el crecimiento y desarrollo utilizando la Ortodoncia Interceptiva (una opción mucho más asequible que los brackets tradicionales para adolescentes y adultos).
Book Online Now
Complete the form below to book your appointment today.
Office Hours
Monday

8:00 AM – 5:00 PM

Tuesday

8:00 AM – 5:00 PM

Wednesday

8:00 AM – 5:00 PM

Thursday

8:00 AM – 5:00 PM

Friday

8:00 AM – 4:00 PM
CareCredit
CareCredit is a healthcare credit card designed for your health and wellness needs. Pay for the costs of many treatments and procedures through convenient monthly payments.
Our patients leave smiling


Very professional, clean, respectful, polite, cheerful. Listen to concerns and input.

Leslie F.



outstanding dentist outstanding technicians and friendly office staff what more can you ask for

Gary J.



Denise was fantastic, always hated the dentist until I had her for the cleaning. Very professional and friendly and made the experience enjoyable!

Scott N.



Pleasant greeting when we arrived. After the visit upon leaving answered and explained all questions in detail. Obviously they are really putting their best foot forward, which is good for business and appreciated.

Dennis R.



Staff is friendly and kind. Hygienists are excellent and the dentists are very thorough

Denise V.



Top notch, friendly, professional staff who make you feel cared about.

Valerie A.



They are so kind and gentle…thank you for your service!

Janet G.



Great service, terrific staff, and exceptional dentists !!

David O.



Friendly courteous professional

Frances C.



Great service & I have a lot more work to be done

Scott S.



Every time i come in for an appointment, everyone is so sweet. Its like family, not just a patient.

Savannah E.



Great cleaning!!!

Gail M.



Everyone I had contact with in the office was so nice and made me feel very comfortable and calmed my nervousness

Theresa L.



Great staff, bright clean office, treatments were painless, no waiting.

Denise H.



Professional, knowledgeable, thorough, courteous and friendly.

Donald M.



Attentive and personable.

James D.



Very professional, courteous and all staff explained all the work to be done in detail, costs, etc and also as work was being performed. Front desk staff very friendly. Answered all my questions. Very clean and comfortable clinic. Highly recommend!

Lynn C.



Friendly and courteous office staff. Very efficient. Very clean facility.

Anthony G.



Awesome

Sean C.



The care and concern for my needs were far exceeded by Tobi the hygienist that day. She should be given a huge bonus and additional vacation time for her hard work.

Darryl H.



Excellent in all areas.

Raymond C.



Professional, knowledgeable, and very friendly staff.

Cindy G.



Dr. Z and her staff are excellent

Peter K.



Dr. Zelinski is very good and her dental assistant is too. Both are also very nice people.

Franklin J.



They are so warm and relaxed me from my anxiety.

Janet G.



Everything was fine.

John K.



Friendly Staff, Punctual; Excellant Hygenist & Dentist.

Donna R.



The staff is so accommodating.

Francis C.



Sending in my spouse. Everyone was friendly and thorough.

Glenn B.



everyone at oceans dental give me excellent care thank you all

Gary J.



I had a dental emergency and they got me in fast and were very kind and understanding. Thank you

T L.



Denise who did my cleaning did the best job and so very informative and kind. Thank you!

Debbie K.



I have been going to this dental office for 14 years, and have been very pleased with the dentist and the staff. I would gladly recommend this Dentist office.

James W.



I needed an emergency exam as I was so much in pain, the staff were extremely friendly and helpful, the dentist and assistant were very gentle and understanding, due to my current financial situation, I had to leave , but will definitely be back for when I need services done. Thank you so much i do want to say that this dentist is not pushy as trying to find other stuff to get money out of ya like…

Diarmuid C.



Very friendly staff & good location

Rakinya H.



Great dental work and nice staff.

Annette C.



Wonderful staff of dentists and assistants. Very professional and caring staff. I would recommend this Office to all of my family and friends.

LaValle H.



Dr Z and staff professional, kind, caring, knowledgeable. I had excellent service.

Sheryl M.



I've always HATED to go to the dentist and my mouth sure is proof Thanks to the staff, my dental hygiene is getting back on track!!! They make my daughter and I feel like family which makes our appointments alot less scary. Hands down the best office i've ever been to!!!!

Tiffany J.



I appreciate the care Dr Z and her team that helped me, Meredith and Tina. They are very gentle, professional, understanding, knowledgeable, informative and know their trade well. Thank you!

Sheryl M.



Everyone was friendly and professional. Explained what they were doing and what they recommend for me to do keep my dental health on track

Darlene W.



I really like the dr. And staff.

June M.



The staff here are very personable and make you feel comfortable and do great dental work.

Melody P.



I was truly impressed with the comfort and understanding of the staff. They allowed me to explain the trauma that I went through as a child with the dentist and understood my fear of Dentistry because of that. Truly wonderful

Joseph M.



Staff was friendly and knowledgeable. Made me feel very at ease

Linda H.



Great place

Amber R.



Denise, the new hygienist with this office, was very caring and informative with me. I was her first patient.

Adrienne W.



The staff is so competent & nice. Treat you with care & respect.

Shari T.



They did an outstanding in identifying and then treating an issue I was unaware of in a timely and professional manner. Very pleasant office environment. Makes me feel welcomed and appreciated every visit.

Guy T.



Professionalism, thoroughness of staff. Full disclosure of costs and explanation of insurance coverage.

Aimee B.



I was very satisfied with my experience here. Everyone was so kind, they were understanding when I was running late and found a way to fit me in anyway. The office is very clean and comfortable, I especially love the t.v's in the exam rooms it made going to the dentist a little less scary. The dentist is great, she is very professional and took great care of me., especially with my anxiety.…

Allison S.



Satisfaction with the result of my visit. My dentist is attentive and caring, as well as all the care givers such as hygienist and front desk clerks.

Mireille T.



Very friendly staff, this office also accepts a dentrite!

Kayla A.



Excellent staff

Kayla A.



The service that I received was great. There were no major problems.

Stephen M.



People were very polite ,curtias and willing to answer all questions asked of them

David K.



Always an enjoyable experience when I'm there. The staff is lovely and very friendly every time I go.

Ashley B.



Pleasant staff and atmosphere. Love the tv in each room. Thank you Wanda and Deb!

Delfina T.



This is a Great place for Dental work the staff is awesome !!!

Robert J.



Great office staff. Marina the Dental hygienist is great

Mary W.



very efficient, friendly atmosphere everything was explained to me. Dental hygienist was very thorough, confident in dentist's expertise.

Evelyn H.



The employee who cleaned my teeth was excellent! Very supportive and positive.

Darlene B.



The people here are nice and they do good work.

Valerie C.



Dr. Reddy and his assistant Marie were phenomenal.

Anne H.



On time, professional and very effective. Was able to establish exactly what my copay would be at the time of service.

Howard A.



very friendly professional and caring

Letina H.



Very caring about their clients. Everyone is very knowledgeable and go the extra mile to answer any questions you may have. Highly recommend!

Karen C.



Very friendly staff and helpful. Especially since I'm very scared . The dentist and assistant were wonderful as well .

Nina M.



Appointment was on time, office staff friendly and helpful.

Annamay H.



Very professional and informative. Wanda was amazing and very gentle when she cleaned my teeth. I will definitely refer my friends and family to this office.

Jorge D.



Wonderful care from the moment I walk in.

Valerie A.



I was early for my emergency appointment and they took me in right away. The dental assistant made sure I was comfortable, took an X Ray and explained what she was doing. Dr. Zelinski then explained her plan to me.

Adrienne W.



Excellent fun and caring staff.

Cheryl R.



Everyone is very friendly and knowledgeable.

Migdalia K.



Friendly and professional great office

Charles D.



Excellent care and very good care

Pamela B.



Very professional and carting. Long term approach to my needs.

Keith H.



Professional, competent, and caring staff. Attentive to my dental needs.

Andrea W.



Understanding of my situation, acting quickly & professionally

Cathy H.



Communication was understandable and decisive

Michael Y.



Professional, competent, and always courteous. Friendly and upbeat staff. I highly recommend Oceans Dental.

Andrea W.



Thorough, friendly service

Debra P.



The staff is Exceptional and my dentist made me comfortable even though I am a big chicken . She also took the time to explain everything.

Antoinette M.



The dentist and staff are excellent, knowledgeable and professional. I feel comfortable and treated with courtesy and respect.

Julia R.



Marina, the hygienist, did an exceptional job, she explained everything she was doing and why, she was thorough, she has excellent people skills, a great personality, and made the entire experience of getting my teeth cleaned a pleasant event.

Aaron W.



With my reservations about dentists, I can honestly say I don't mind going to the dentist anymore. Pleasant and professional staff.

Kristen R.



The staff was is very professional. I can't say enough about the doctor she was is awesome.

Bernice W.



Very friendly and caring staff. Great dental experience.

Matt H.



Very professional in all aspects of patient care.

Margaret C.



Personnel are knowledgeable and friendly. Tina put me at ease and Deb at the front desk has a wonderful personality.

Delfina T.



Wonderful staff and great Dentist! Highly recommend.

Andrea S.