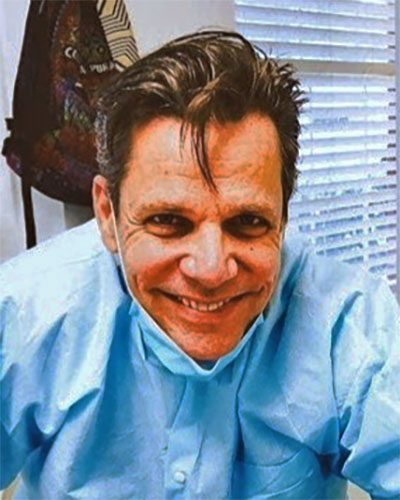 English
Dr. Angel Garcia is a distinguished figure in the field of dentistry, specifically Palm Coast, where he has serviced his community for over 10 years. He earned his Doctor of Dental Surgery degree in 1996 from Marquette University Dental School. Additionally, he did his Pedodontics (children's dentist) residency at Miami Children's Hospital. Where he learned how to work with children and manage growth and development by using interceptive Orthodontics (a much more affordable option than traditional braces for teenagers and adults).
With almost three decades of experience, Dr. Garcia is proficient in a wide spectrum of dental procedures, including treating children as well as adults. White fillings, wisdom tooth extractions and implant surgery, root canal treatment, crown and bridges, dentures and partial dentures, and full range of orthodontic treatment for adults and children to improve your smile and self-confidence.
Dr. Garcia's career is marked by a relentless dedication to oral health and his patients' well-being. He prides himself on offering solutions to both fix your immediate dental concerns and improve your overall dental health. He continues to be a valuable asset in the field of dentistry by attending educational courses and broadening his knowledge. He strives to always improve his clinical expertise with his commitment to delivering compassionate and comprehensive dental care.
Dr. Garcia is fluent in Spanish and English, which allows him to effectively communicate with a diverse range of patients.
Español
El Dr. Ángel García es una figura distinguida en la odontología, específicamente en Palm Coast, donde ha prestado sus servicios a la comunidad durante más de 10 años. Obtuvo su título de Doctor en Cirugía Dental en 1996 en la Escuela de Odontología de la Marquette University Dental School. Además, realizó su residencia en Pedodoncia (odontología infantil) en el Miami Children's Hospital, donde aprendió a trabajar con niños y a manejar el crecimiento y desarrollo utilizando la Ortodoncia Interceptiva (una opción mucho más asequible que los brackets tradicionales para adolescentes y adultos).
Con casi tres décadas de experiencia, el Dr. García es competente en una amplia gama de procedimientos dentales, que incluyen el tratamiento de niños y adultos. Realiza empastes blancos, extracciones de los terceros molares e cirugia implantación, tratamiento de conducto, coronas y puentes, dentaduras y dentaduras parciales, y una amplia gama de tratamientos ortodónticos para adultos y niños, con el fin de mejorar su sonrisa y su autoconfianza.
La carrera del Dr. García se destaca por su dedicación incansable a la salud bucal y el bienestar de sus pacientes. Se enorgullece de ofrecer soluciones tanto para resolver sus problemas dentales inmediatos como para mejorar su salud dental en general. Continúa siendo un activo valioso en el campo de la odontología al asistir a cursos educativos y ampliar sus conocimientos. Se esfuerza por mejorar siempre su experiencia clínica con su compromiso de brindar una atención dental compasiva y completa.
El Dr. García es fluido en español e inglés, lo que le permite comunicarse de manera efectiva con una amplia gama de pacientes.